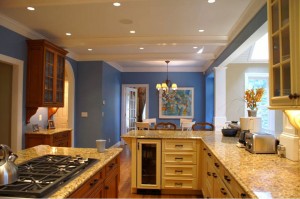 Pirro Construction specializes in residential remodeling, including custom kitchen and bathroom design, home additions and new construction. We work with you to design your remodeling project and then handle every part of your construction project, from concept to completion.
For over 20 years, Pirro Construction has offered homeowners the peace of mind of knowing their project is in good hands. When you work with us, you are guaranteed that your construction project is treated with the highest levels of professionalism and quality craftsmanship. In keeping with our commitment to total client satisfaction, we approach every project with the quality and care that has earned us our outstanding reputation and has allowed us to enjoy a reputation of design and remodeling excellence.
"We have known Richard Pirro since 2000. We first asked him to build a small closet for us in our newly purchased 19th century home in West Newton, Massachusetts. His attention to every detail was most impressive. Later we completed a major renovation of this same home and did not hesitate to contact Richard to acquire both his expertise and a timely estimate. Richard may not have been the least expensive but his experience, professionalism, accurate estimates and frank and honest appraisal of every situation and challenge continued to convince us that the old adage is true: you get what you pay for! He completed the renovation on-time and under budget. Every aspect of the renovation was better than we ever expected. For the next several years he was involved in several more projects on our primary and summer home, each completed with the finest attention to every detail. Richard is an honest, open and extremely knowledgeable businessman and craftsman. We highly recommend him without any reservations."

John Connaughton
West Newton
Contact us for more information about our remodeling and construction services or use the request an estimate page to define the project you have dreamed about.