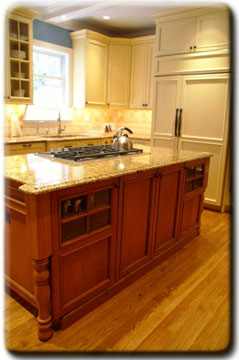 "We would definitely designate ourselves as being very "particular" consumers when it comes to work done on our home. We notice even the small details and, I'd even say that we have exacting expectations. We would hope that any contractor performs the service for us as they would want it done in their own home. We worked with Richard Pirro over the course of 15 months as we did a major renovation and addition to our home in Weston and we were truly sorry to say goodbye to him when the work was finished! We had heard stories of friends having difficulties with their contractors but we have only wonderful things to say about Richard. He worked so closely with us throughout the entire process, and he was never unwilling to hear our questions and concerns. It was truly a collaborative project between ourselves, our architect and Richard Pirro.
For starters, Richard's cost estimates were absolutely accurate and that was important to us. We went over the estimate by 3-4% and that was because we added some work to the original scope of the project. It was amazing how closely he was able to price the various phases of our project.
Richard was wonderful in working with our architect. We brought Richard in at nearly the same time that we began to work with the architect because we wanted to be sure that the design was feasible and priced within our budget. Richard communicated clearly with the architect and there were several occasions when Richard made important design suggestions that lowered our costs and realized our goals more fully. He has an amazing design sense and he can tell you the most cost-efficient ways to get to the goal you envision.
There was one weekend when Richard called us from home on a Saturday and asked if he could come over since he just had a new idea about how we might handle the backsplash tile in our guest suite bathroom and he wanted to implement the change. He wasn't satisfied with how it looked and he went home thinking about solutions and came back on a weekend to make the changes.
The scope of our project was large:
We finished a very large basement into a playroom with a kitchen and a bathroom;
We finished the space over our garage and created a guest suite and bathroom there;
We completely renovated our existing family room, kitchen, and mud room.
On countless occasions, Richard had wonderful solutions to design issues that even our architect had been unable to suggest. We were looking for finishes that were high-end and Richard delivered this.
Richard was extremely conscientious, totally professional, and always honest in his dealings with us. His finish-carpentry work is of extremely high quality. All of his sub-contractors were equally reliable and conscientious. It was always true that he would field any and all questions and concerns that we had. He never acted bothered by our requests.
What was also amazing is that Richard was always on-time in finishing each stage of the project. The one time when we ran a few weeks behind, it was because our own cabinet maker was delayed and had made some errors. Otherwise, everything was always on time. And, it may be difficult to believe, but each and every day that Richard worked at our house, he wouldn't leave until he had cleaned up thoroughly. He was so respectful of the fact that we were living in the house during the renovations.
We have several other projects that we want to address in our house, and when we have the finances to move forward, we will be sure to contact Richard to do these bathroom renovations. We would highly recommend him to anyone who wants a high-quality contractor for home renovation."
Sincerely,
A.C. and J.D.
Weston, MA
Contact us for more information about how we can help you with your home remodeling project or use the request an estimate page to get the project underway.